When we think about the kitchen, we always think about food. Good food, however, should also be healthy and nutritious. Although we can't expect that from fast food, preparing our own food at home will ensure that we can customize our food preparation.
In order to encourage every member of the family to eat at home, food should always be delicious and easy to prepare. And this is possible if you have the right gadgets.
We are sharing with you our favorite kitchen gadgets to help make your kitchen a better place for preparing food. These innovative devices are affordable and easy to use; and they actually make the process of food preparation enjoyable and safe as well.
Hamilton Beach 25490A Dual Breakfast Sandwich Maker
This kitchen gadget is capable of preparing 2 sandwiches in one setting. You can customize your sandwiches by layering up bread, biscuit, cheese, ham, vegetables and egg in the set up process. It only takes a couple of minutes (from start to finish) to come up with delicious, healthy, and nicely prepared breakfast.
You can get this versatile sandwich maker at Amazon for about $39. You can look forward to having quick breakfast at home from now on.
RSVP Herb Scissors
Although you can use dried herbs when preparing dishes, using fresh ingredients is still the best way to go. However, this can be a bit troublesome if you don't have the right kitchen tool to do it. Well, not anymore, if you have a pair of herb scissors!
This model comes with 5 pairs of 3-inch blades; so cutting herbs into tiny pieces is really a breeze. The scissors come with silicone and plastic handles which are easy on the hands. You can grip it comfortably and perform the task efficiently too.
Now you won't find it troublesome to use fresh herbs in your recipes. This pair of scissors is only priced at about $9 at Amazon.
AYL Silicone Heat Resistant Grilling and BBQ Glove Set
This is an all-around cooking glove set. Yes, you can use it for grilling and smoking BBQ, but you can also use it for other purposes as well. The gloves also function as potholders, so you will find these devices useful when baking too. It actually works better than a regular potholder because its five-finger design allows you to handle hot objects more effectively.
The gloves are insulated and waterproof too. Your hands are therefore protected while doing all types of cooking preparations. In fact, you can even use this outdoors such as when you go on a camping trip.
You can get this set of gloves for less than $20 at Amazon. And you know safety and convenience in the kitchen is always worth investing in!
Spiralizer Envy Spiral Slicer Complete Bundle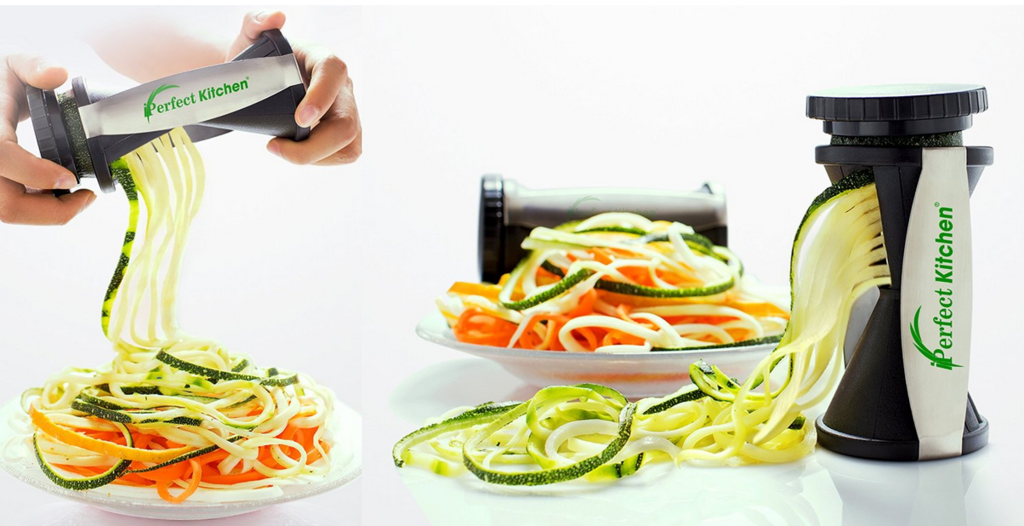 This is a vegetable cutter, but it's not like any standard veggie cutter. You see, vegetables come out in a spiral presentation when you use this device, so vegetables will look really appetizing.
Operating the device is simple and easy too. A manual turning motion is required, which is comparable to sharpening a pencil – and out comes spaghetti-style veggies ready to eat!
The stainless steel blades guarantee fast and accurate cutting when preparing your food. The whole process is safe, simple, and enjoyable too.
Priced at only about $15, this should be one of the basic tools in your kitchen. It will really help you prepare a lot of healthy recipes for your family.
Enjoying Good Food in Your Own Kitchen
You probably didn't think that you can prepare food safely and creatively with today's modern devices, did you? These innovative kitchen gadgets will allow you to prepare breakfast, lunch, dinner, and snacks in different ways – healthily and safely as well.