As a true convection oven, the Frigidaire FGEW2765PF comes with a built-in fan to facilitate air circulation around food in the cooking chamber. It also comes with a lot of features including a 5-rack position and 24-hour delay timer. It can therefore accommodate a variety of dishes in one setting and you can schedule the time of cooking. You can bake, roast, and keep food warm in this versatile kitchen appliance.
Why Should You Go for a Convection Oven?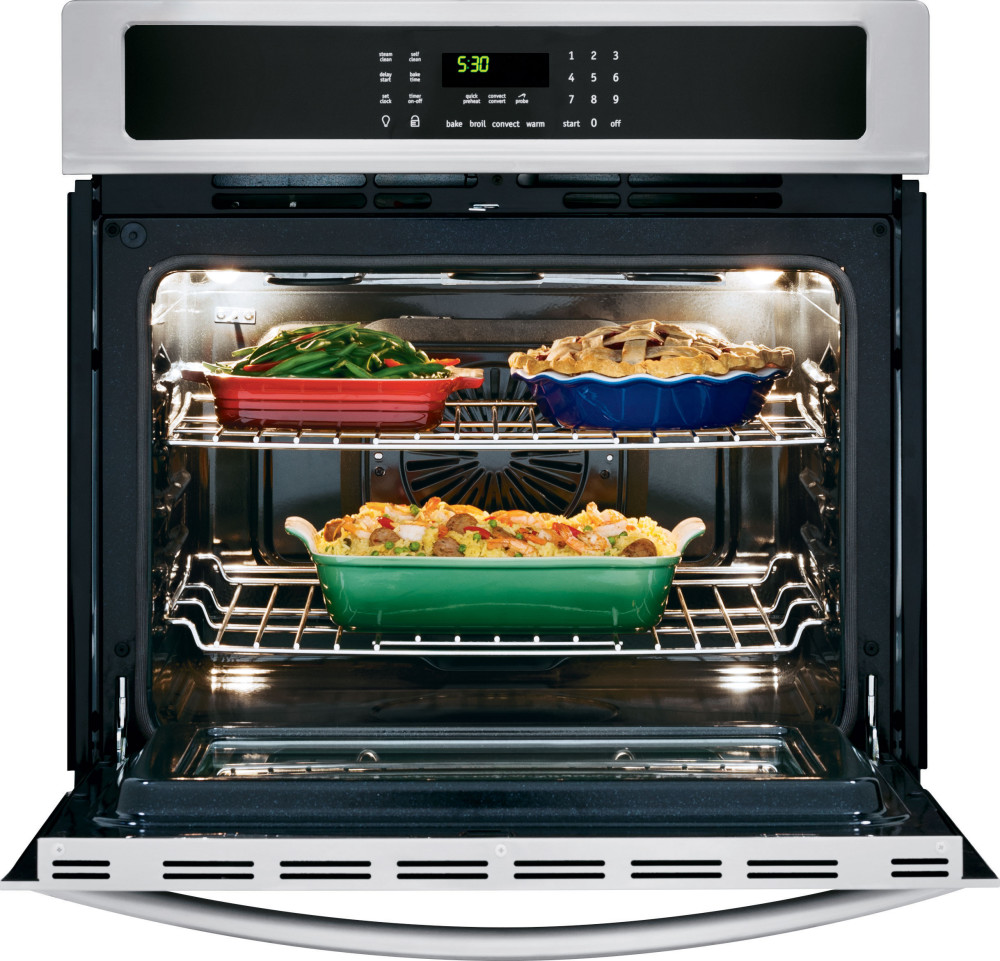 In a traditional or conventional oven, cooking of food is facilitated through heat and radiation that bounce within the oven's walls. While that is an effective way of cooking, there could be some cold spots inside the cooking chamber. With this type of cooking device, uneven cooking of food may be experienced.
The Frigidaire FGEW2765PF works as a convection oven since it comes with a built-in fan. Heat is therefore circulated inside the oven to cook food evenly. So even if you decide to cook a number of dishes in a multi-rack setting, everything will come out of the oven well-cooked.
This model carries a lot of other features too. You will appreciate its one-touch option controls which allow you to quickly choose a cooking temperature for a particular dish. You can cook and bake meat, pasta, pizza, pastries and more in this one simple oven.
Main Features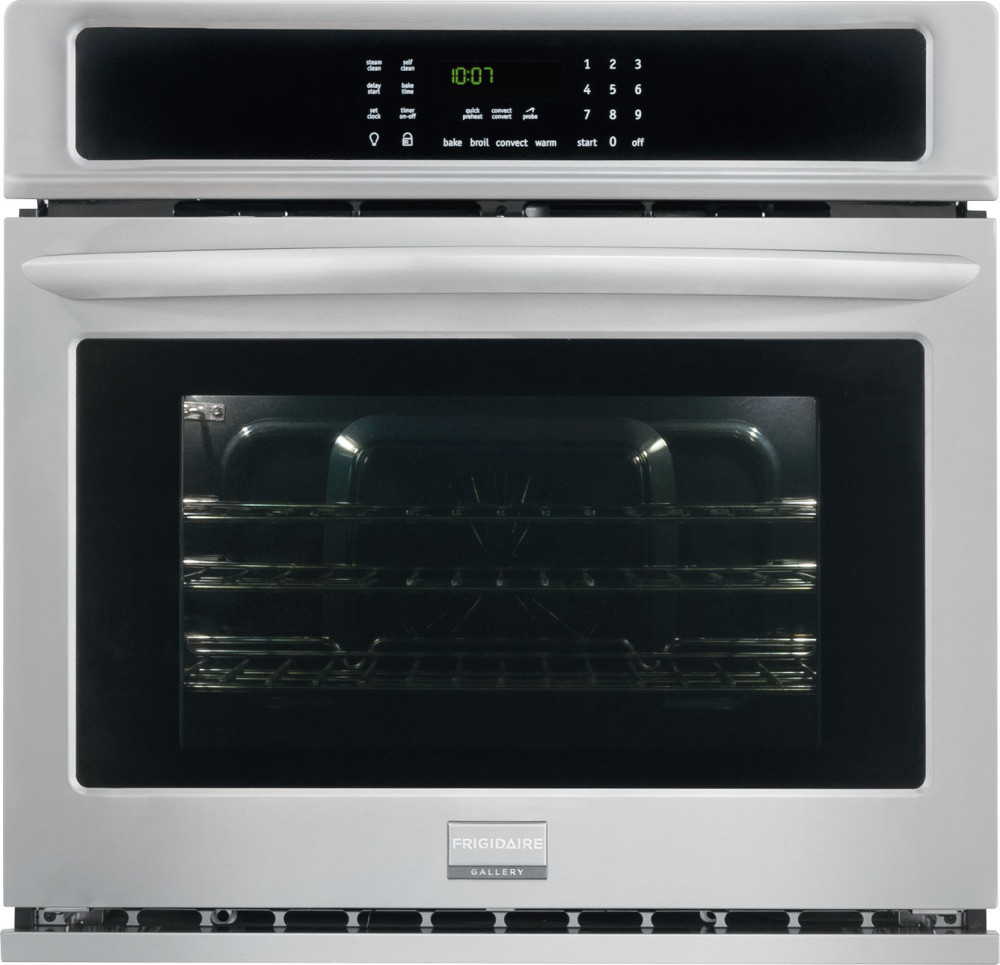 Oven Capacity – This is a 3.8 cubic feet oven. It can hold several dishes in one setting since it also comes with 5 adjustable racks.
Quick Preheat – The oven can be preheated in just a few minutes. Cooking time will always be fast and efficient.
Fuel Type – This is an electric oven. You need an electrical outlet to use it.
Delay Start – It comes with a 24 hour delay timer. You can set it to start cooking on your preferred time.
Smudge Proof – Its stainless steel finish is fingerprint resistant and easy to clean. It also looks good in the kitchen.
Steam Cleaning – It comes with a steam cleaning option for a chemical free and hassle free maintenance. This can be pre-set to automatically operate after hours of use.
Power Broil – Broiling food is fast and efficient. The temperature can be set anywhere from 400 to 550 degrees Fahrenheit.
Even Baking Technology – This feature guarantees even baking all the time. Even cooking is always important no matter what the recipe is.
Keep Warm Setting – The food can be kept warm after baking. You can take it out when the family is ready to eat.
Express Select Controls – You can choose to select from the 1-touch options or set the cooking temperature manually yourself.
Product Specifications
Product Dimensions: 29 x 27 x 24-3/4 inches
Product Weight: Approximately 120 pounds
Pros
Controls are Easy to Operate – Its one touch options allow you to easily choose from pre-programmed settings.
Easy to Install – The unit can be installed under the counter or through the wall. As long as the precise cut out size is prepared, installing the oven is a breeze.
Easy to Clean – It has a built-in optional steam cleaning feature. Chemical-free steam is used for the process, so it's safe.
Cons
Fan Noise – According to some customers, the oven fan is noticeable when running. This is only normal as it moves a lot of air inside the cooking chamber. The noise is actually negligible.
Is the Frigidaire FGEW2765PF for You?
If you're looking for a true convection oven, it would be wise to consider this model. It comes with a built-in fan to facilitate quick and even cooking of food all the time.
This unit is also easy to operate as it comes with one touch controls. You can also choose to select a particular temperature setting manually so as to meet your specific requirements on certain recipes.
Indeed, this is a very helpful and versatile kitchen companion and it will allow you to prepare a lot of dishes effortlessly. It cooks well; and there are features like time delay and keep warm settings to really help you with your cooking tasks. It even comes with a self-cleaning feature.
This oven has 5-star ratings at Amazon.com too, as a lot of customers are really pleased with its performance.
As for the price, the manufacturer has currently set $1,699.00 as their suggested retail price for this unit.
However, as of this writing, you can get it at Amazon for only $1,399.00 (plus free shipping). Amazing, isn't it?
So if you're really keen on getting the Frigidaire FGEW2765PF oven, buy it now before it runs out of stock.
It's worth every penny and you'll really love it too!